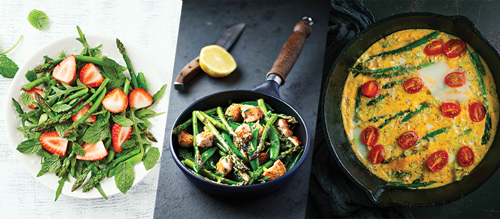 Asparagus is easy to grow and it's fairly low-maintenance. The plants are hardy and can tolerate a variety of temperatures and soil types, so they're a great choice for beginner gardeners. Asparagus plants should be planted in early spring, so now is the perfect time to think about getting started!  
Start by gathering materials
The following are our best recommendations for each category:
Potting Soil:
Fertilizer:
Slow Release Plant Food:
Seeds For Cooler Climates:
Seeds For Warmer Climates:
Mulch:
Soaker Hose:
Sprinkler:
Insect Spray:
Trellis:
Preparing the Soil
Before planting your asparagus, prepare your soil for success.
Asparagus plants need well-drained soil, with a neutral pH level (around 6.5-7.0). If the soil is either too acidic or alkaline, the plants simply will not be able to grow properly.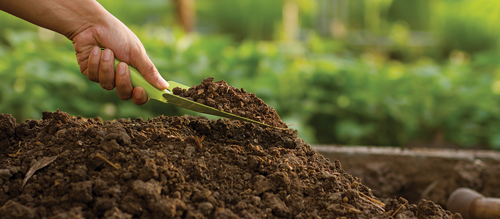 To avoid potential root rot, you should also ensure that your soil is light and airy. To achieve this, mix in plenty of compost, or aged manure, before planting. (this has the added benefit of adding essential nutrients to the soil!) It's also important to make sure your soil is fertile. You can also add a slow-release fertilizer when you plant your asparagus and then again in the early summer. 
Planting 
Asparagus plants need at least 6 hours of sunlight a day, so make sure you choose a spot that gets plenty of sunshine. Once you've chosen a spot in your garden make sure the soil is both loose and free of debris.  Now you are ready to start  planting. Asparagus thrive in cooler weather, so you'll want to plant  in early spring.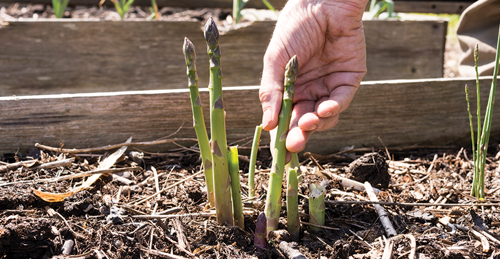 Choose the right type of asparagus for your region - there are dozens of varieties, so be sure to pick the one that best suits your climate. Here are some popular examples:
In cooler climates, the recommended types are:
In warmer climates, the recommended types are: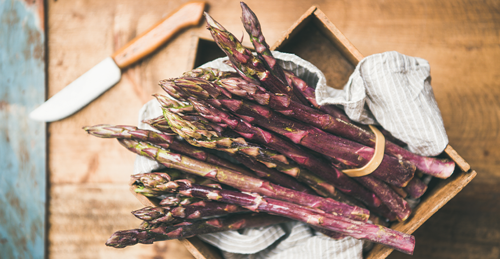 Purple Passion asparagus is a hybrid variety that is suitable for a range of temperatures and is known for its high yields and disease resistance. Great if you are unsure which type is best suited for your climate!
When choosing plants, look for asparagus crowns or bare roots. "Crowns" are the easiest option and they can be planted as soon as they arrive. Bare roots should be soaked in cool water before planting. 
When planting, be sure to keep the crowns (or roots) slightly covered with soil.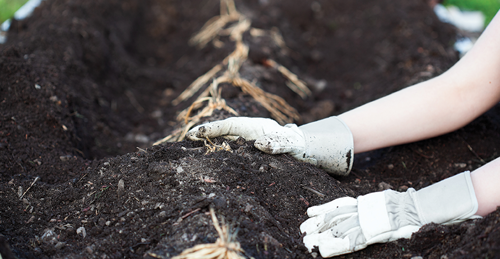 Asparagus plants like to be planted in trenches, so dig a trench about 4-6 inches deep, and plant each crown or root about 12-18 inches apart. 
As you fill in the trench, mound the soil up around the plants so they're just slightly covered with soil.
Maintenance
Once your asparagus has been planted, they will need regular maintenance to keep them healthy and productive. Asparagus plants need at least 1 inch of water a week. Use a soaker hose or a sprinkler to make sure your asparagus gets enough water.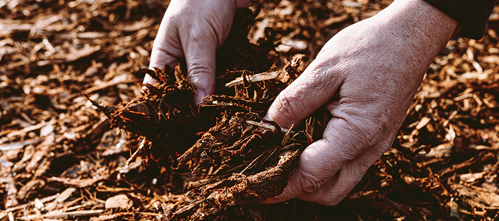 Mulch around the plants to keep the soil moist and to help prevent weeds from growing. (Mulch also helps keep the soil temperature steady and prevents the roots from drying out!) Fertilizing is also important for asparagus plants. 
Since they need a lot of nutrients, you should fertilize your plants every few weeks with a balanced fertilizer. (But be sure to follow the instructions on the package, as too much fertilizer can be damaging to the plants!)
Pests and Diseases
Pesky pests and diseases can be 2 of the major roadblocks you may have to face when growing asparagus.  In either case we recommend starting by removal of any debris or dead plant material from around the asparagus plants.  
You can then use insecticides or organic pest control sprays to get rid of the most common pests you might run into such as aphids, caterpillars, and beetles. 
Diseases (such as crown rot and fusarium wilt) can also affect the plants.  Remove infected plants and apply a fungicide.  
Harvesting 
Finally, we get to the exciting part...harvesting!   Asparagus should be harvested when the tips are tight and purple and the stalks are between 6 to 8 inches long.  Harvesting on a regular basis will encourage the plants to produce more stalks.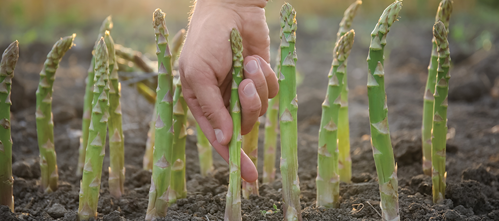 Simply snap the stalks off at the base with your fingers to harvest. (Yes...it's that easy!) Asparagus can be stored in the refrigerator for up to a week, so you can enjoy the fresh, homegrown taste for days! 
Is there any way to preserve asparagus? 
Yes, asparagus can be preserved in a variety of ways. One way is to blanch the asparagus and then freeze it. This will help preserve the flavor and texture of the asparagus. You can also preserve asparagus by pickling it or canning it in jars.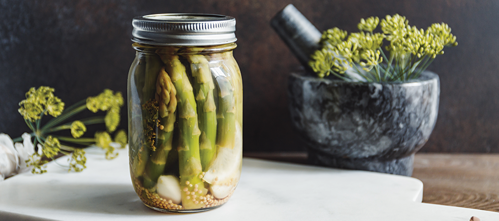 Finally, asparagus can be dried and then stored in an airtight container for up to a year.
How long does it take to grow asparagus?
It takes about two to three years for a newly planted asparagus plant to become established and start producing stalks. Patience is key!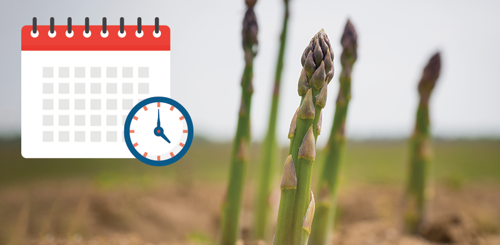 Asparagus plants should absolutely NOT be harvested in the first year, as this will prevent the plants from becoming established. After the second year, you can begin harvesting the stalks, and in year three you should be able to enjoy a full harvest.
Is asparagus difficult to grow?
The answer is no - asparagus is actually...quite easy to grow!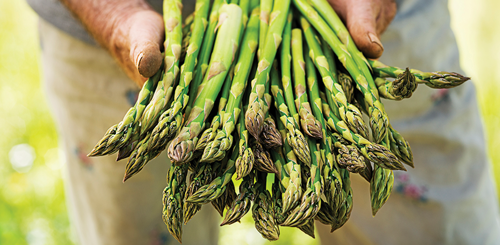 The plants are considered to be quite hardy and can tolerate a variety of temperatures and soil types, so they're a great choice for beginner gardeners. 
How many asparagus do you get from one plant?
One asparagus plant can produce up to two pounds (0.9kg for our metric friends) of stalks each year.  The amount of asparagus each plant produces will depend on the variety and how well it is cared for.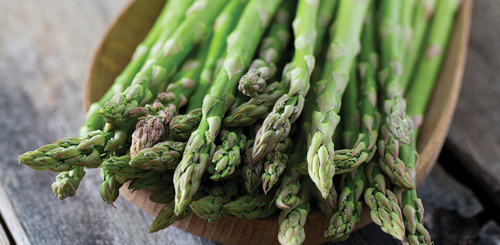 We recommend thinning out the plants when they're young to give them more room to grow. This will also encourage the plants to produce more stalks.
What happens if you don't harvest asparagus?
If you don't harvest your asparagus, the plants will...simply keep producing stalks.  On the surface this sounds pretty good right?  Sadly, however these stalks won't be as big (or as tender) as the ones you would have harvested earlier.  Unharvested plants will also be much more vulnerable to pests and diseases.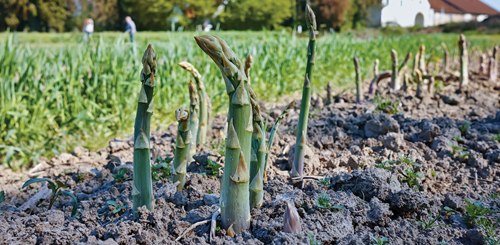 It's definitely best to harvest your asparagus regularly to keep the plants healthy and productive! 
Can you eat asparagus the first year you grow it?
Unfortunately, that's a no. As detailed above, asparagus plants need time to become established before they can produce edible stalks. It's best to wait until the second year before harvesting any stalks. This will also help ensure that your asparagus plants are healthy and productive. (Plus, the stalks will be bigger and more tender!)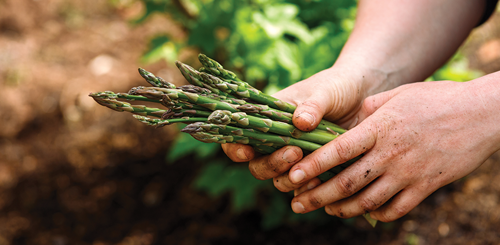 So while we understand the temptation to harvest your asparagus too soon, we recommend that you hold off until year two  - it's well worth the wait!
Is it worth it to grow asparagus?
Absolutely! Growing asparagus is a great way to add a delicious, homegrown vegetable to your diet.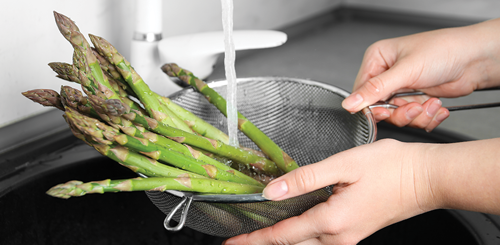 While you may not get the immediate gratification of yielding a crop of  asparagus in your first year, once established, your initial efforts will be rewarded with asparagus plants that will keep producing for up to 20 years! 
Does asparagus keep growing if you don't cut it?
Yes, asparagus will keep growing if it is not harvested.  They can actually grow to an unsightly 5-6 feet!  These stalks will be thinner, less tender and all around lower quality.
Why do you have to wait 2 years to harvest asparagus?
If you harvest the plants in the first year, they will not have enough time to develop a strong root system and because of this, the plants simply will not be as productive or as healthy. Additionally, the stalks will not be as big and tender as if they were harvested in the second year.
What is the best fertilizer for asparagus?
Asparagus plants need a lot of nutrients, so it's important to use a fertilizer that is specifically designed for asparagus.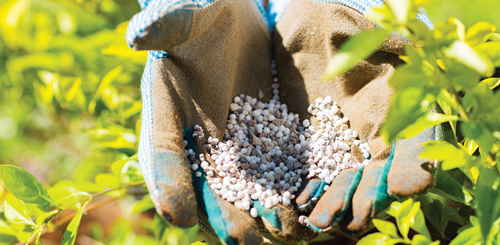 A balanced fertilizer, (such as a 10-10-10 or 5-10-5), is ideal. To ensure that the plants get the nutrients they need throughout the season, you can also try using a slow-release fertilizer. Just remember to follow the instructions on the package....too much fertilizer can be damaging to the plants!)  
Where is the best place to plant asparagus?
Asparagus plants prefer full sun and well-drained soil, so ideally plant your asparagus in an area that gets at least six hours of sunlight each day. Asparagus should be planted in an area that is sheltered from strong winds and harsh weather. (You don't want your asparagus getting damaged by the elements!) 
Does asparagus need a trellis?
Not necessarily. Asparagus plants will grow on their own without a trellis, but using one can be helpful to provide some support for the stalks. A trellis will help keep the stalks upright and off the ground.  This can be beneficial to help prevent them from getting damaged by the elements. It also keeps your garden tidy and in turn, should make harvesting easier. (Plus, a trellis can add a decorative touch to your garden!).  In conclusion, asparagus plants do not need a trellis, but the choice is yours!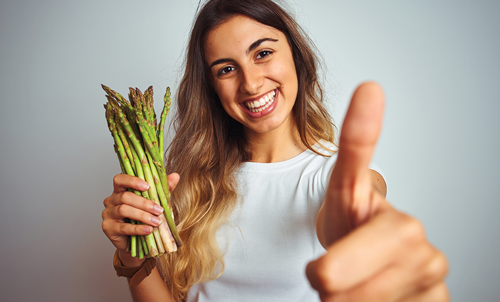 Do you have any tips for growing asparagus? Share them in the comments! We'd be so happy if you followed us on Twitter, Instagram, or our BRAND NEW TikTok for more gardening tips, tricks and recipes. We also have a lovely newsletter you can sign up for to get the latest and greatest from VivaFreshFood delivered straight to your inbox!